Rally in Support of Our Incumbent School Board Members!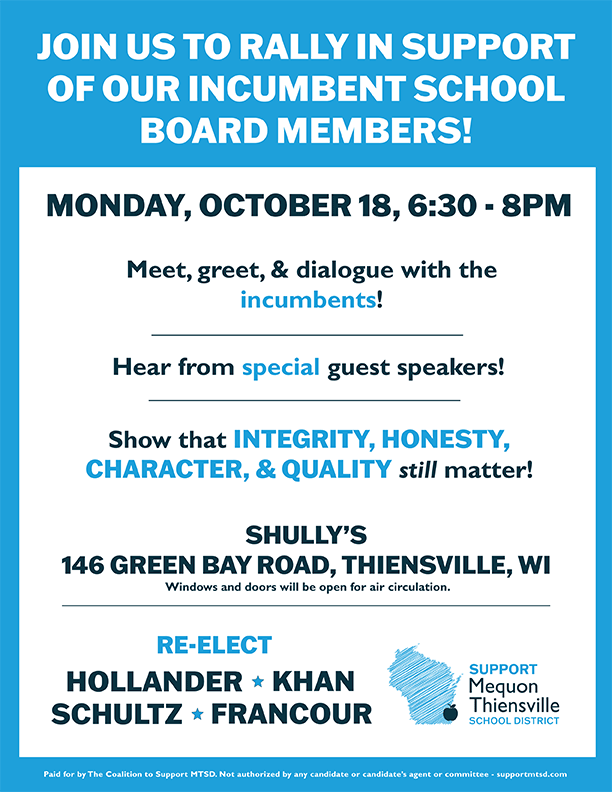 Join us on Monday, October 18, 2021 at Shully's in Thiensville to meet, greet, and dialogue with the incumbent school board candidates!
We are grateful to Shully's for reaching out and offering equal time to the incumbent school board members.
This is an open house format - come when you can and stay as long as you'd like! The event is free and anyone is welcome to attend. Social distancing will be encouraged and the doors/windows will be open for circulation to enable all to be comfortable.
In accordance with open meeting laws, candidates will circulate in and out of the room so that there is no question of a quorum.
Monday, October 18, 2021
6:30 - 8 pm
Shully's
146 Green Bay Rd.
Thiensville, WI 53092
---
Add Your Name to Our Supporter Wall
Show the community that integrity, honesty, character, and quality still matter to Mequon-Thiensville.
Add your name
---
Become a Volunteer to Support MTSD
Help spread our message and defeat the partisan extremists trying to infiltrate our school board under the guise of "concerned parents". We all need to step up to make sure that our School Board remains non-partisan and our schools continue to be strong. We need your help.
Volunteer today
---
Donate to Support MTSD
Your contribution will go directly to programs opposing the recall / restore MTSD hijacking of the school board and combating external influence on our community.
Donate today
---
Show Your Support for MTSD Publicly with a Yard Sign
If you're interested in a yard sign, please contact us to order one. Our suggested donation is $10 per sign to defer costs.
Get a yard sign
---
Express Your Opinion
Many in the community have written to local news outlets, like the News Graphic, with opinion pieces to be published. Please continue to make your feelings known! We're also collecting endorsements and testimonials to be published on this site. If you would like to have something published on this site, please contact us.
---
Talk to Your Friends and Neighbors to Support Truth
You know your neighbors. Talk to those you believe you can approach about the importance of this election and why they should get involved. In addition, elections are held every year. Regardless of the recall election outcome, we will always need dedicated volunteers that fit the key attributes of what we believe makes a good board member:
Treats others with respect
Comes to board meetings prepared and with knowledge of the agenda items
Judges board issues pragmatically on their own merits
Does not have a preconceived partisan agenda
Willing to bring positive ideas to the table to solve problems
---
Contact Your Local Political Party to Tell Them to Stay out of Local Government, Including School Boards
Ozaukee County Democratic Party
PO Box 236
Cedarburg, WI 53012
ozdems.org